10 Makeup Tips to Help You Look Camera Ready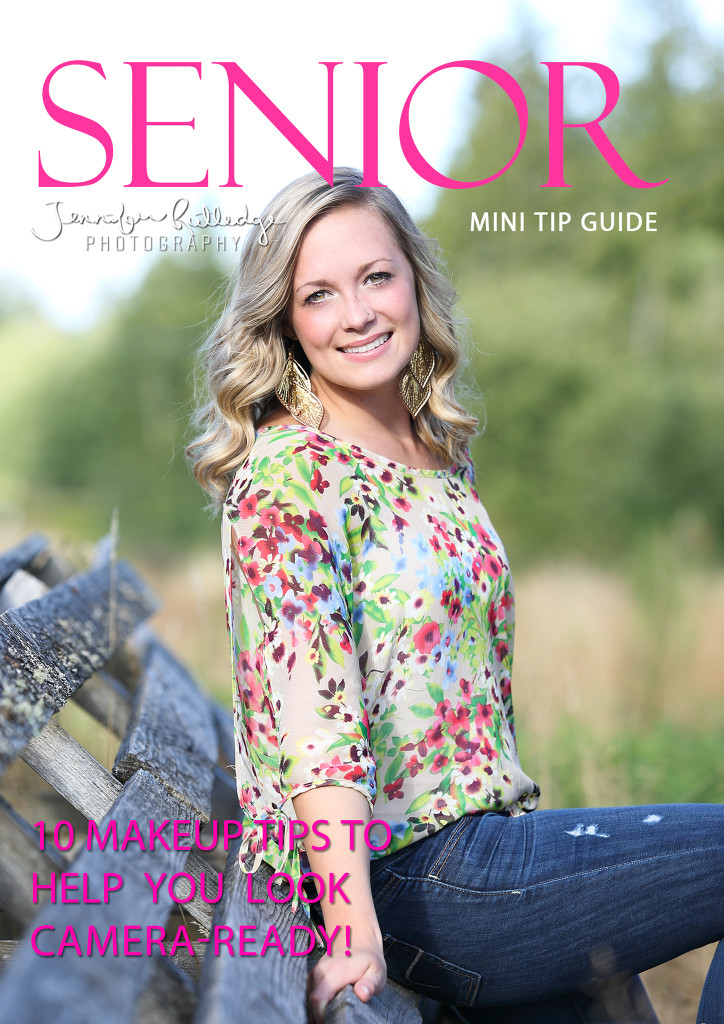 I love it when clients sign up for professional hair & make up for the senior portraits with Jennifer Rutledge Photography. Not only is it FUN, but it creates a polished look that really makes senior portraits beautiful. But not everyone wants the pomp & circumstance of a full style session.  For the more minimalist senior portrait client, who wants to do their own makeup, here are some helpful tips to follow:
1. LIGHTEN UP. Avoid going too dark in your foundation shade. Have your shade professionally matched to your skin tone as close to the day of your shoot as possible. This really matters!
2. MATTE IS A MUST. Especially for your cheeks, stay away from shimmery powder, no exceptions. For eyelids, keep shimmer strictly to the lids.
3. PRIMARY FOCUS. Primer is essential for keeping makeup intact! It's like the base coat of a nail manicure. Oil-free versions are best and also sensitive skin-friendly.
4. SAY NO TO SPF. Primer and foundation should be SPF-free. Formulas containing sunscreen cast a ghostlike glow with the camera flash or reflector.
5. LINE UP. When lining eyelids, start in the center and work your way to the outer edge. Lining the entire lid will cause the eyes to appear smaller. Use a slanted brush with a dark (but not black) shadow to line the  lower lids brush with a dark (but not black) shadow to line the lower lids.
6. MORE IS MORE. Camera lighting will wash out colors, no matter what. Don't be scared off by a dramatic finished look. It won't photograph that way. Trust us on this. Your makeup should be darker than your every-day look.
7. BLEND, BLEND, BLEND. When it comes to concealer, cheek contouring and eye shadow, a quality set of brushes is key. The camera will highlight and pick up on unblended edges, creating a clown-like look. Unblended concealer will highlight fine lines.
8. MELLOW YELLOW. To set makeup, choose a yellow based powder rather than a translucent powder. Much like SPF formulas, translucent powders cast a white glow when photographed.
9. PRACTICE RUN. Don't let the day of your photo shoot be the first time to try new products. Consultations and trial runs are essential to creating the perfect final look.
10. AU NATURALE. Always have makeup applied in a natural light. This will be the best indicator of how it will look when photographed.
*Big thanks to Teri Fode and her makeup artist for compiling and sharing their favorite tips!